Sufic Sorcery
شمس المعارف الكبرى Grand Sun of Gnosis
Regular price
$1,000.00 USD
Regular price
Sale price
$1,000.00 USD
Unit price
per
Sale
Sold out
١٢٠٠ صفحة في مجلدان نسبة اصلية وملونة من المخطوطة الاصلية لشمس المعارف نادر جدا
مخطوطة شمس المعارف الكبرى
أو
شمس المعارف ولطائف العوارف
، كتاب -
مخطوط
- لأعمال  سحر تتعلق
بالجن
، وينسب تأليفه إلى
أحمد بن علي البوني
المتوفى سنة
622 هـ
. يحرم قراءته عند
المسلمين
، وقد تم طباعتها حديثاً مع حذف وتحريف ببعض مواضيعه، ولكن ما يزال الكتاب يتناول العديد من أمور
السحر
غير الواضحة، ولقد طبع الجزء الأول منه وهو عبارة عن 577
صفحة
في المكتبة الشعبية ببيروت عام
1985
. بالإضافة إلى احتوائه على أربع رسائل في نهايته من تأليف عبد القادر الحسيني الأدهمي وهي على الترتيب: ميزان العدل في مقاصد أحكام الرمل، وفواتح الرغائب في خصوصيات الكواكب، وزهر المروج في دلائل البروج، ولطائف الإشارة في خصائص بداية
كتاب
شمس المعارف الكبرى الذي يتعلق
بالجن
والسحر
عنوان الكتاب هو: "شمس المعارف الكبرى، ولطائف العوارف"، (يختصر أحيانا: شمس المعارف ولطائف العوارف) في أربعة أجزاء ومجلد واحد مما يقرب من ستة مائة صفحة تأليف: أحمد بن علي البوني، المتوفى سنة مم622 هجرية. ونص المكتوب تحت عنوانه هو: قال في كشف الظنون: " والمقصود من هذا الكتاب بذلك السحر وطريقته وأسماء مردة الجن وطرق تحضيرهم.
أما عن محتوى هذا الكتاب فهو مزيج عجيب من المعلومات المفهومة وغير المفهومة للشعوذة وتحضير الجن، وفيه وصفات خطيرة، وشعوذة كثيرة. والمشعوذ البوني هذا معروف عند المهتمين بالروحانيات والسحر والرمل وما شابه، وله مؤلفات في هذا الميدان، ولقد كان البعض يبحثون عنها في المكتبات ويقضون الأوقات في محاولة فك رموزها لتسخير الجن، وبعضهم كان يتعاطى لهذا السحر والطلاسم غير المفهومة لشفاء المصابين بالمس ـ حسب زعمهم.
ذكر آغا بزرگ الطهراني هذا الكتاب في موسوعته الذريعة إلى تصانيف الشيعة احتمالاً منه لكون المؤلِّف شيعياً،[3] وقال في وصف الكتاب أنَّه: «

شمس المعارف ولطائف العوارف في الأدعية والأوراد والأذكار والختومات والتسخيرات والتوسلات بأسماء الله تعالى وغير ذلك من خواص السور والآيات وبعض العلوم الغريبة، وغير ذلك

»
توزع الكتاب إلى أربعين فصلا ومنها:
الفصل الأول: في الحروف المعجمة وما يترتب فيها من الأسرار والإضمارات.

الفصل الثاني: في الكسر والبسط وترتيب الأعمال في الأوقات والساعات.

الفصل الثالث: في أحكام منازل القمر الثمانية والعشرين الفلكيات.

الفصل الرابع: في أحكام البروج الإثنى عشر ومالها من الإشارات والارتباطات.

الفصل الخامس: في أسرار البسملة ومالها من الخواص والبركات الخفيات.

الفصل السادس: في الخلوة وأرباب الاعتكاف الموصلة للعلويات.

الفصل السابع: في الأسماء التي كان النبي عيسى يحيي بها الأموات.

الفصل الثامن: في التواقيف الأربعة ومالها من الفصول والدائرات.

الفصل التاسع: في خواص أوائل القرآن والآيات والبينات.

الفصل العاشر: في أسرار الفاتحة ودعواتها وخواصها المشهورات.

الفصل الحادي عشر: في الاختراعات والأنوار الرحموتيات.

الفصل الثاني عشر: في اسم الله الأعظم وما له من التصريفات الخفيات.

الفصل الثالث عشر: في سواقط الفاتحة ومالها من الأوفاق والدعوات.

الفصل الرابع عشر: في الرياضات والأذكار والأدعية المستجابات المسخرات.

الفصل الخامس عشر: في الشروط اللازمة لبعض دون بعض في البدايات إلى شموس النهايات.

الفصل السادس عشر: في أسماء الله الحسنى وأوفاقها النافعات المجريات.

الفصل السابع عشر: في خواص كـهـيـعـص وحروفها الربانيات الأقدسيات.

الفصل الثامن عشر: في خواص آية الكرسي وما فيها من البركات الخفيات.

الفصل التاسع عشر: في خواص بعض الأوفاق والطلسمات النافعة.

الفصل العشـرون: في سورة يس ومالها من الدعوات المستجابات
One Copy available
A 

Faithful reproduction of the 

Original Arabic Manuscript. S

ome manuscripts may have blur, missing pages or black spots.
Red linen Wrap Hardcover, over 1100 pages in two volumes fully colored and illustrated facsimile reproduction of the Original Arabic Manuscript 'Grand Sun of Gnosis' شمس المعارف الكبرى.
Magnum Opus of 
Al Buni on the ancient craft through his 
elegant
Sufi
 system of Arabic 
Metaphysical
 Operation.
There are various versions of this work in printed formats but to rest all the controversy about what was and was not included in the circulating versions Sufic Sorcery is making available mostly all known versions of this work into print.
This version, never before in print, the work is a beautifully illustrated and colored 1200 pages manuscript. Very different than other manuscripts and printed versions. There is more elaboration and actual worked examples not contained elsewhere.
this Different content covers talismans and magic squares etc.
Shams al-Ma'arif
or
Shams al-Ma'arif wa Lata'if al-'Awarif
[a]
is a 13th-century
grimoire
on
Arabic magic
and a manual for achieving esoteric
spirituality
. It was written by the scholar
Ahmad al-Buni
who wrote it while living in
Ayyubid Egypt
, he died around 1225
CE
(622
AH
). The
Shams al-Ma'arif
is generally regarded as the most influential textbook of its type in the
Arab world
,
[1]
and is arguably as important as, if not more than, the
Picatrix
in both hemispheres.
In contemporary form the book consists of two volumes; Shams al-Ma'arif al-Kubra and Shams al-Ma'arif al-Sughra, the former being the larger of the two.[2][3] The first few chapters introduce the reader to magic squares, and the combination of numbers and the alphabet that are believed to bring magical effect, which the author insists is the only way to communicate with jinn, angels and spirits. The table of contents that were introduced in the later printed editions of the work contain a list of unnumbered chapters (faṣl), which stretch to a number of 40. However, prior to the printing press and various other standardisations, there were three independent volumes that circulated, each one differing in length.[4]
While being popular, it also carries a reputation for being suppressed and banned for much of Islamic history,[5] but still flourishes in being read and studied up to the present day. Some Sufi orders, such as the Naqshbandi-Haqqani order have recognised its legitimacy and use as a compendium for the occult, and hold it in high regard
Share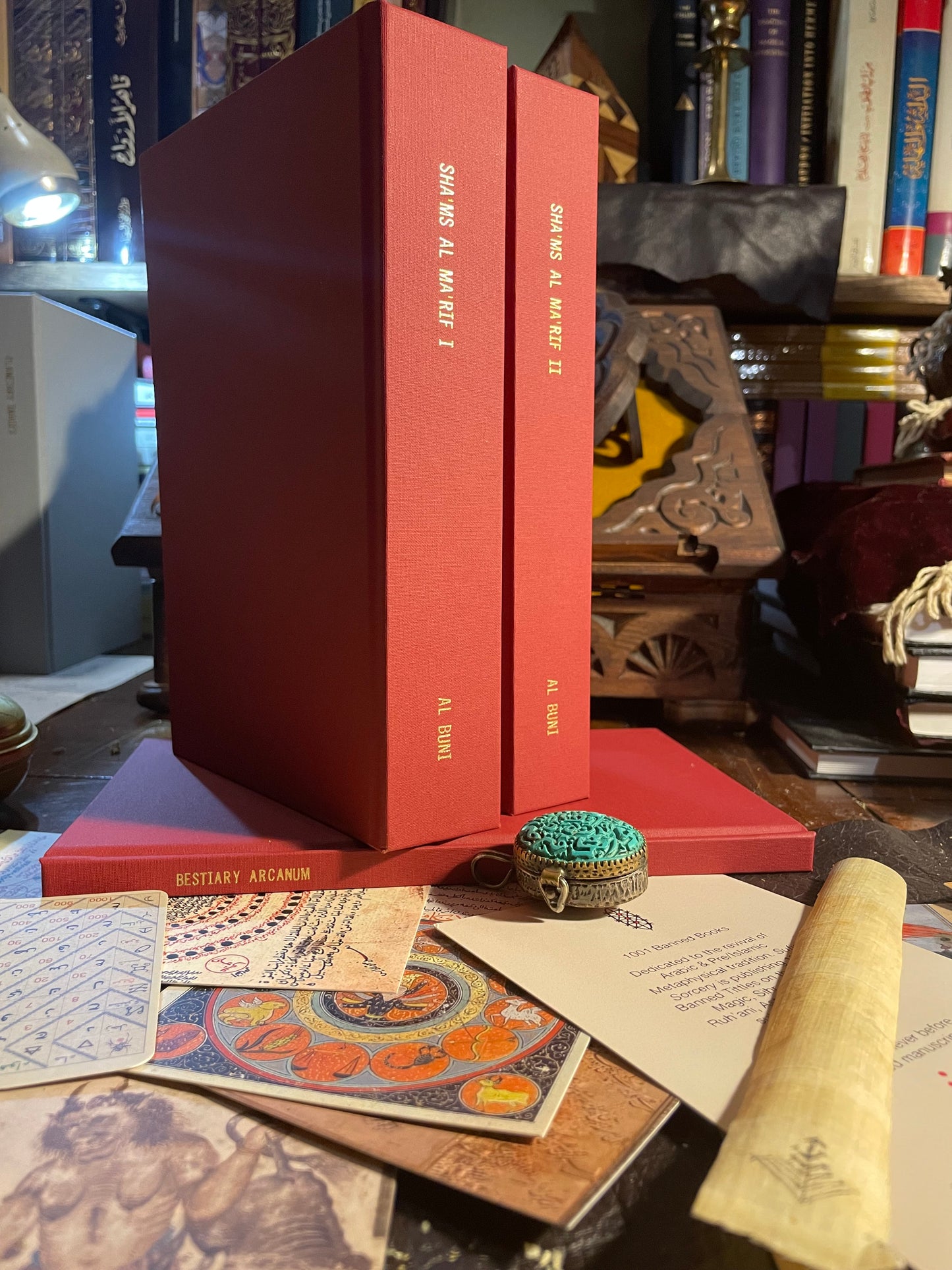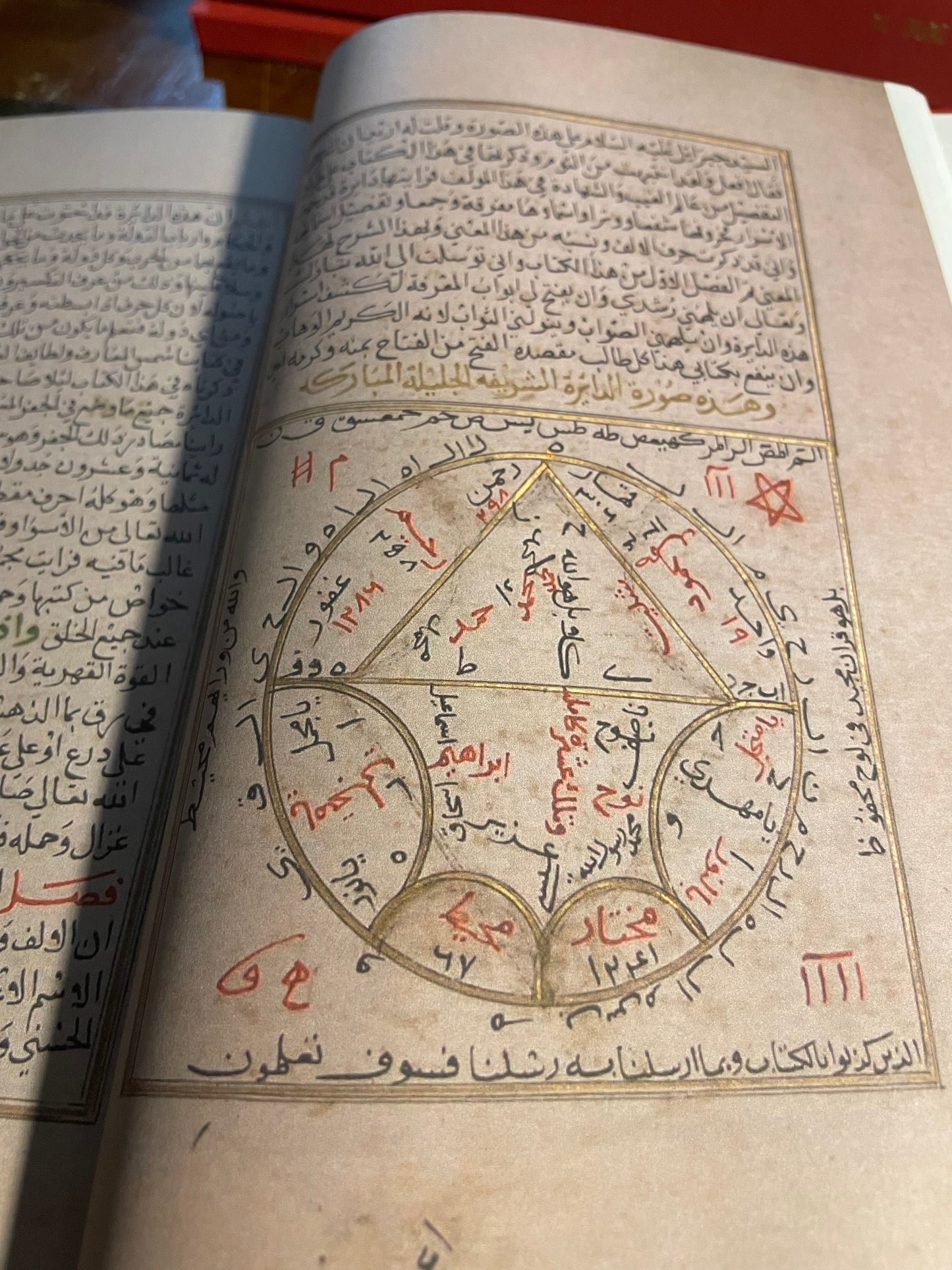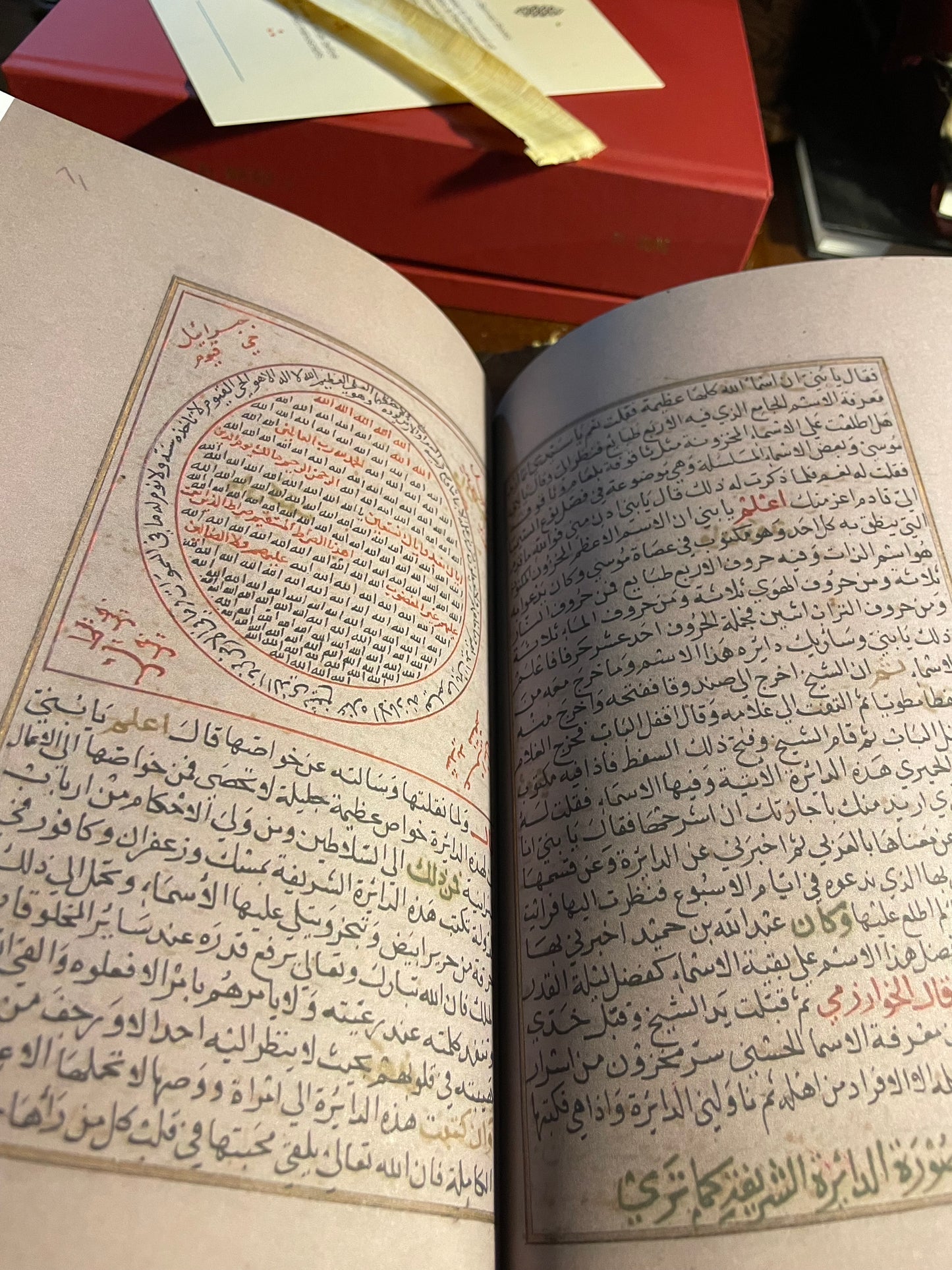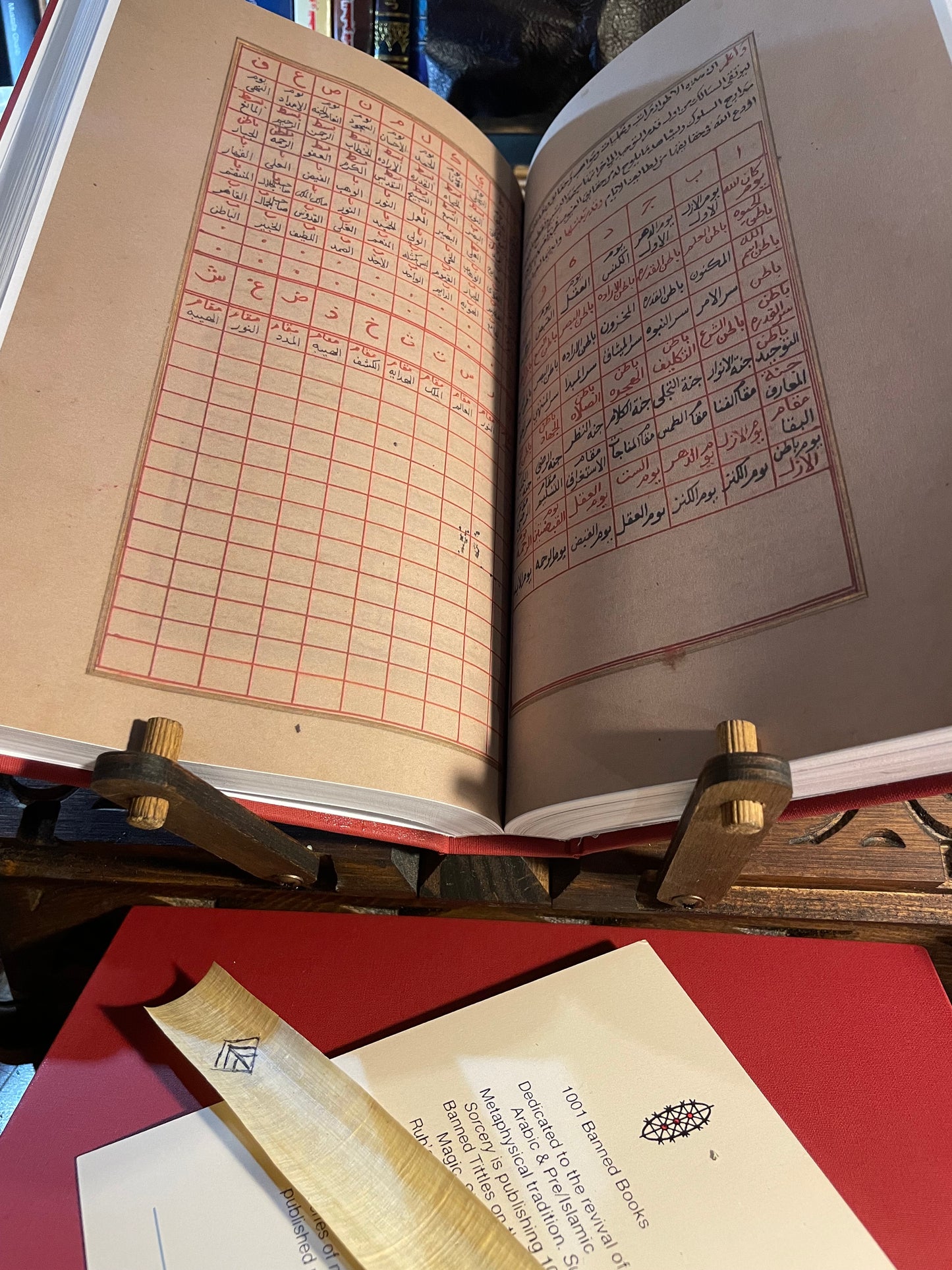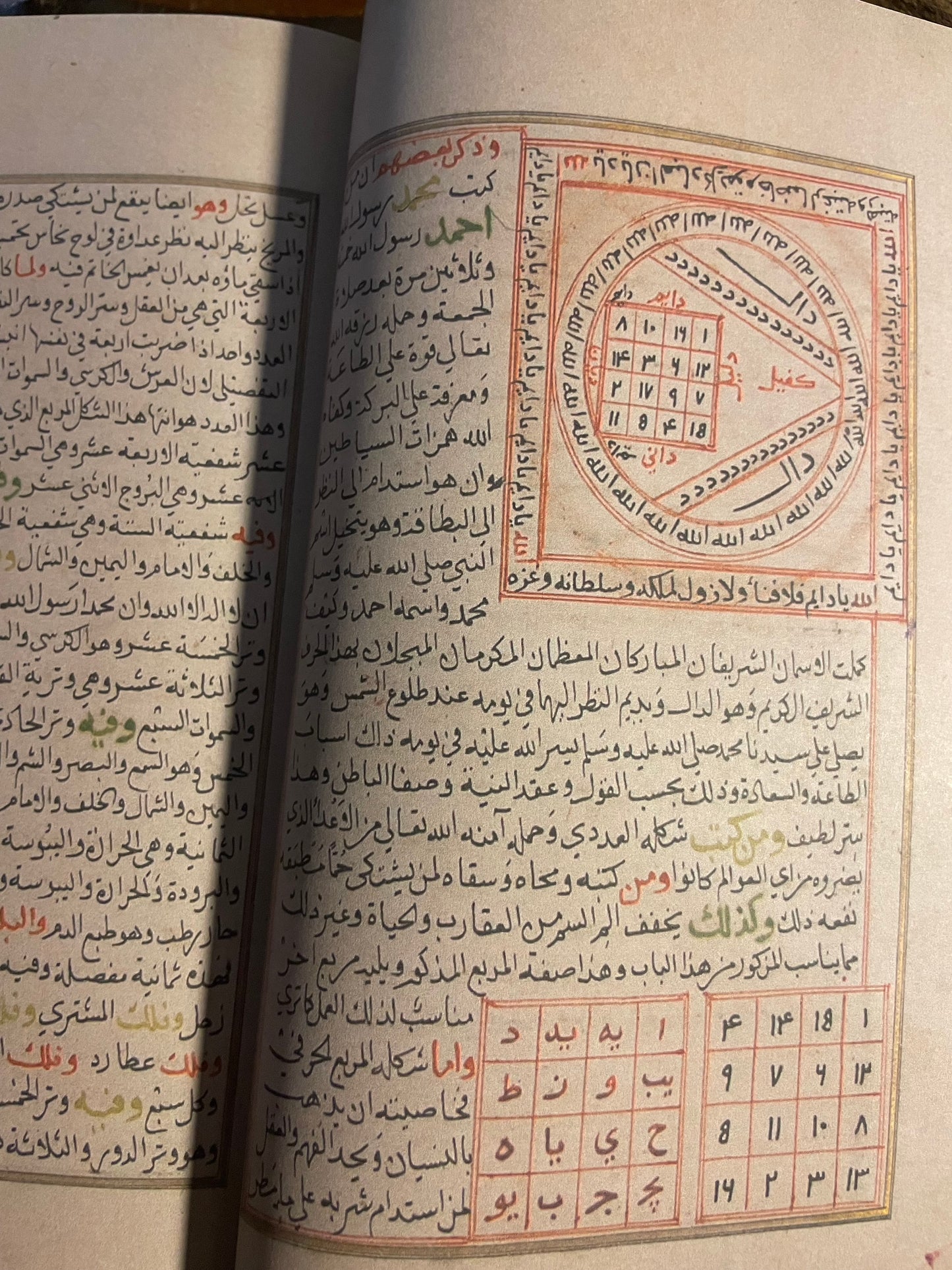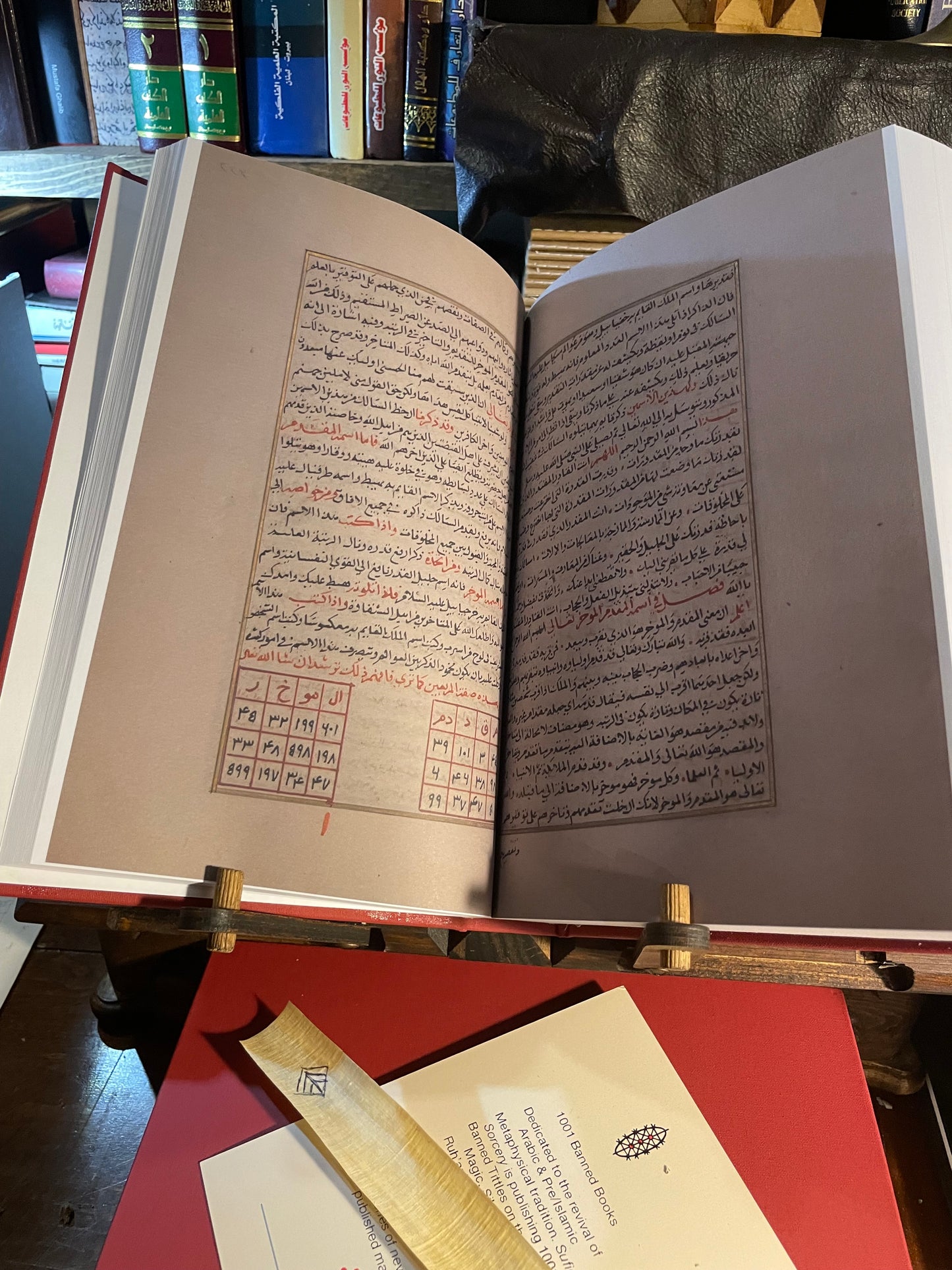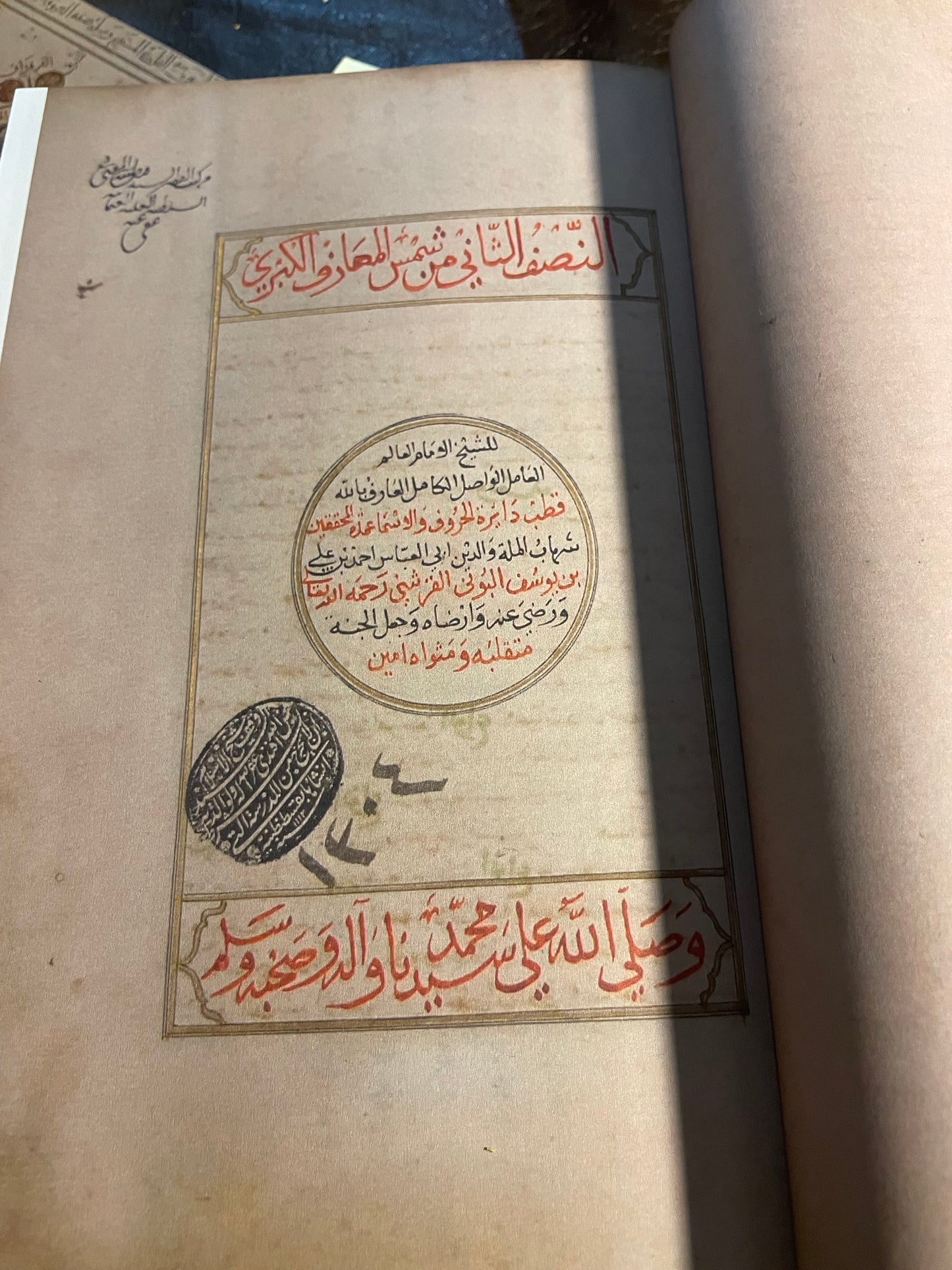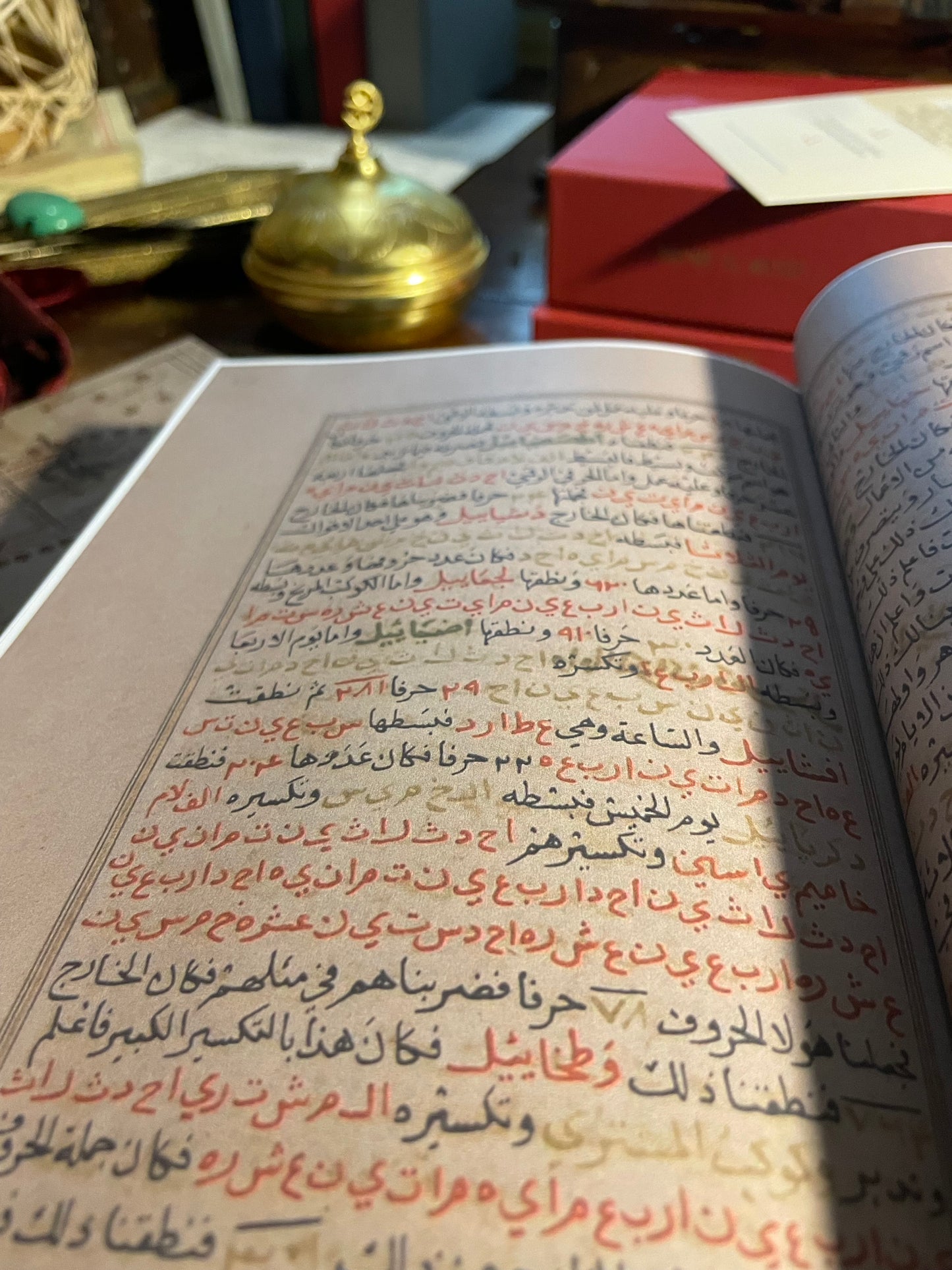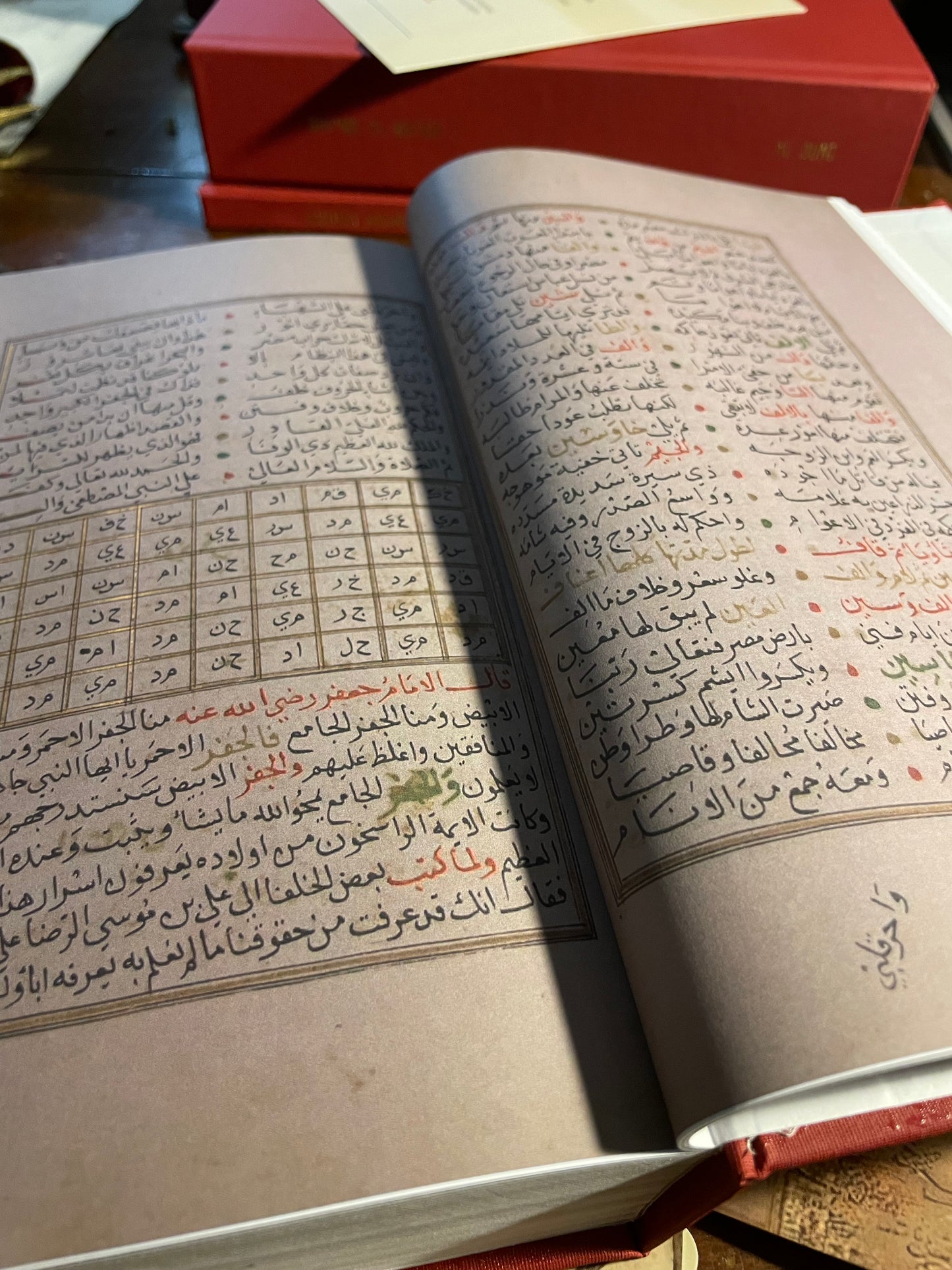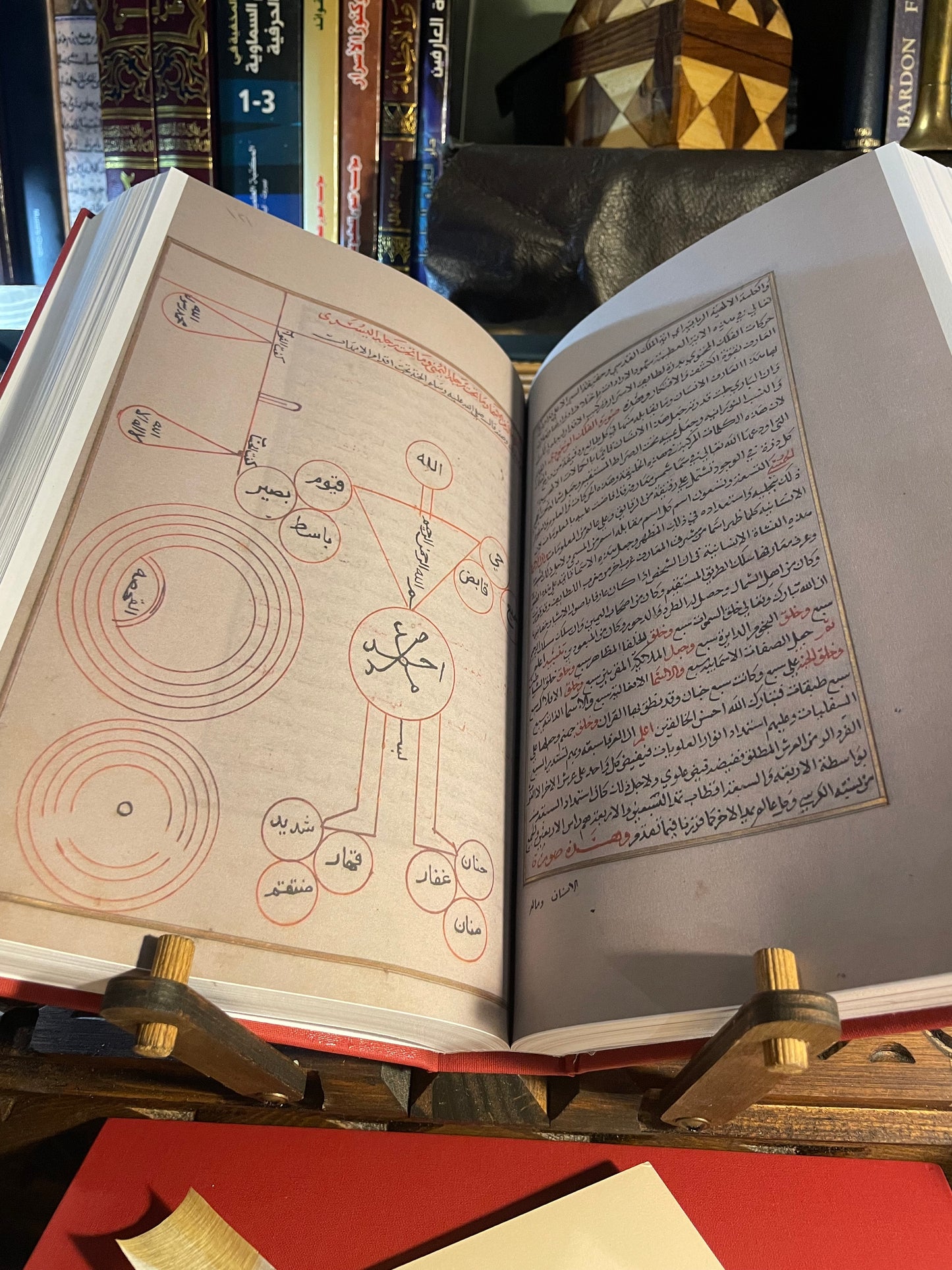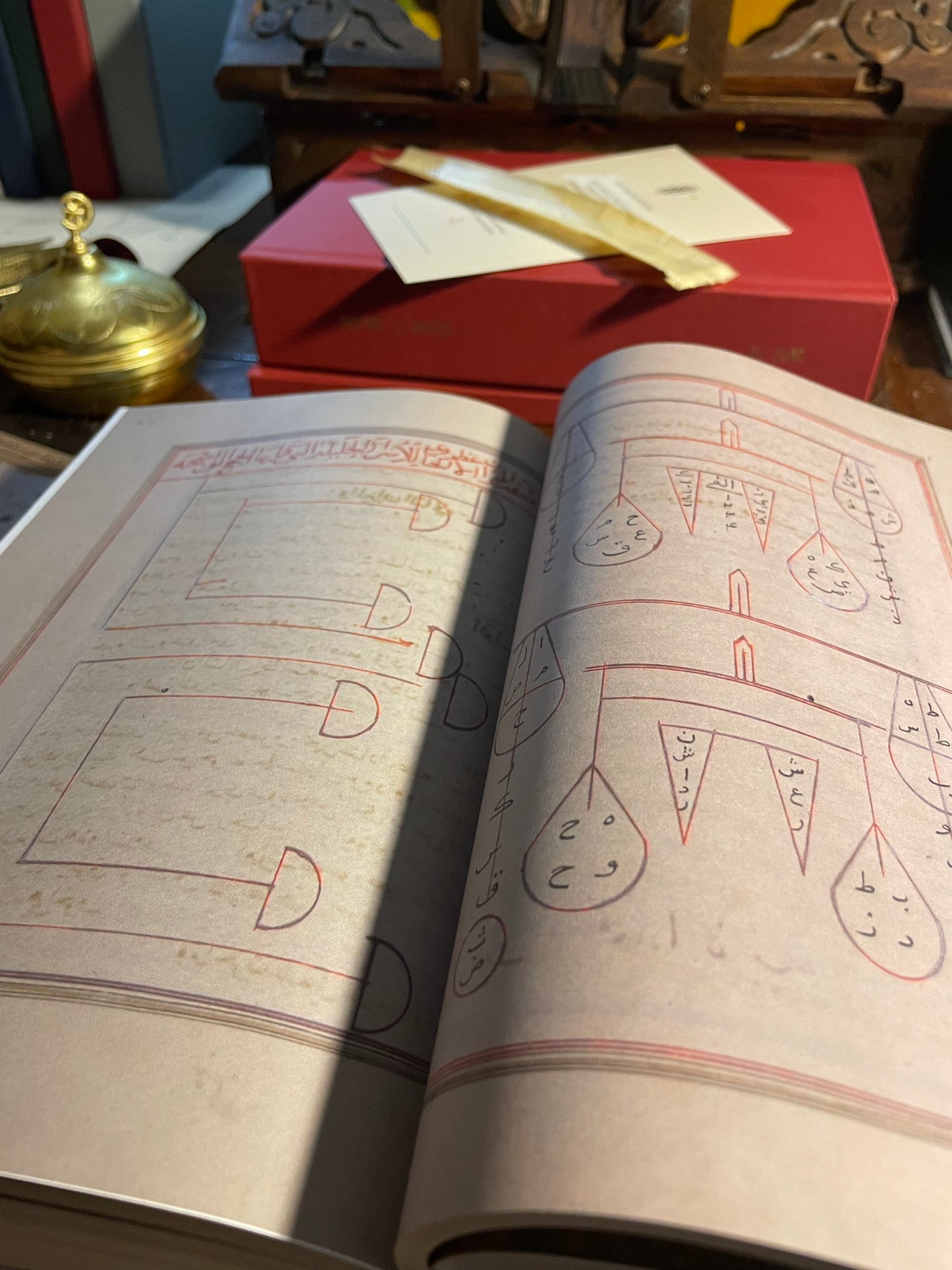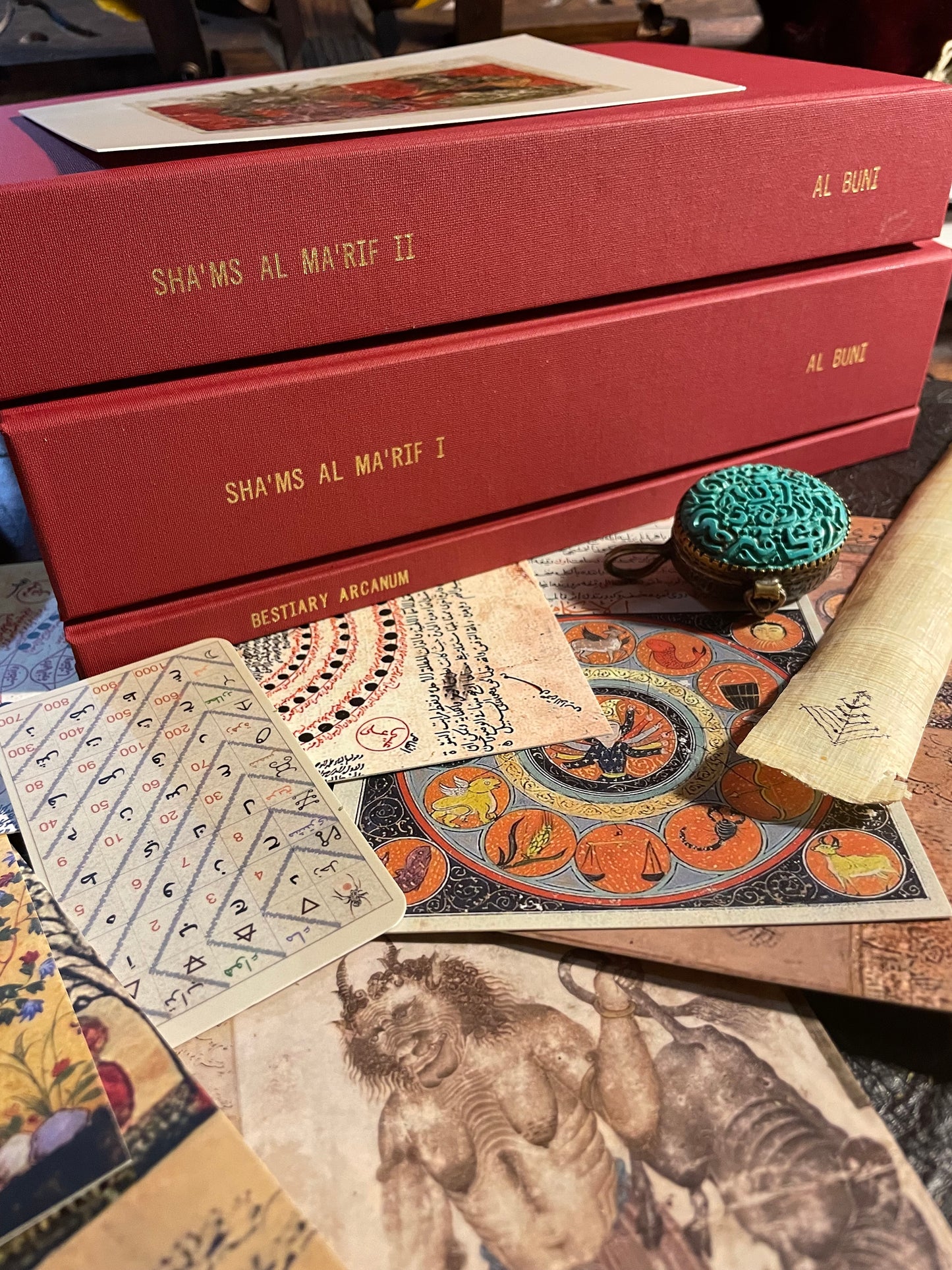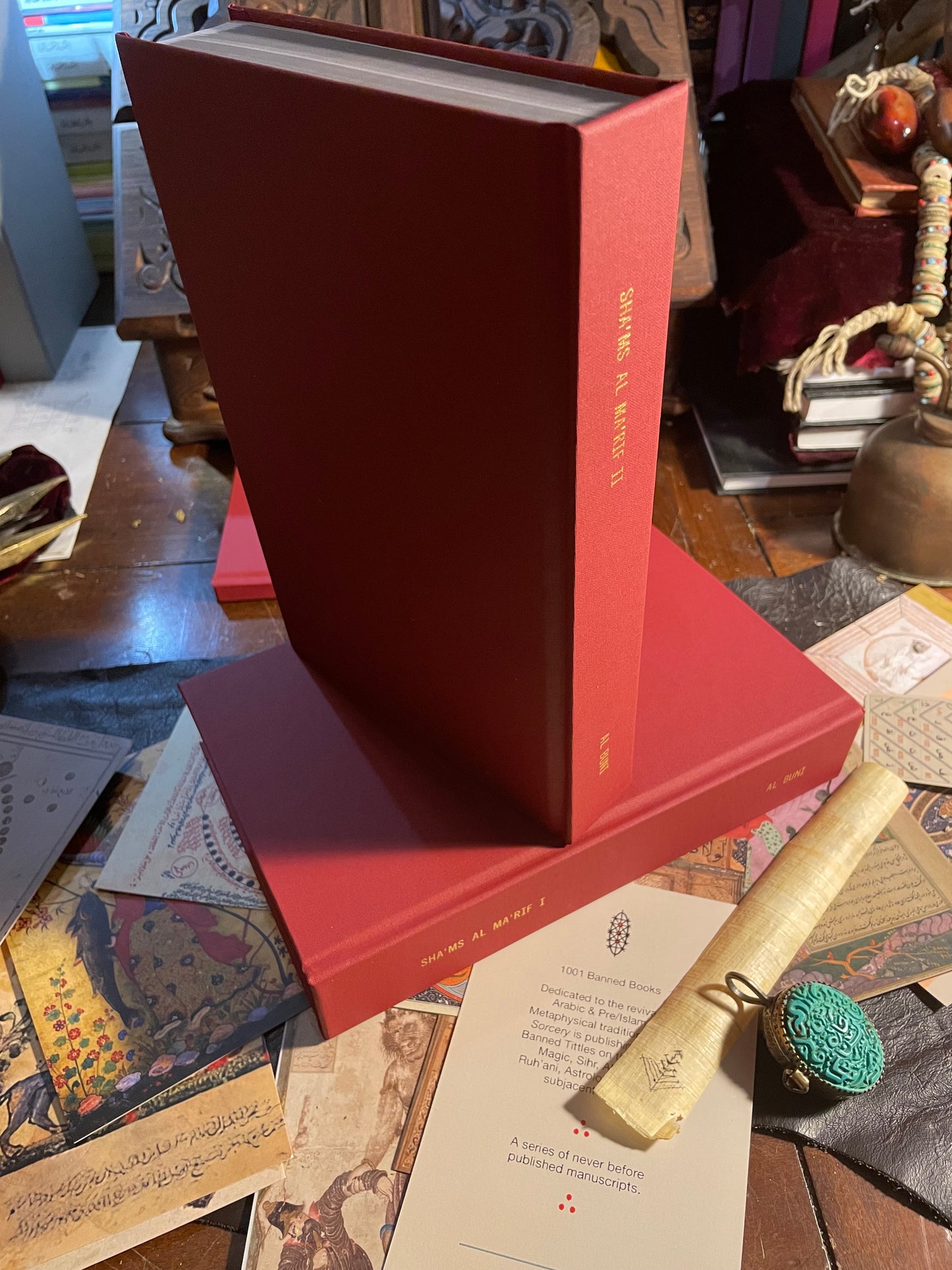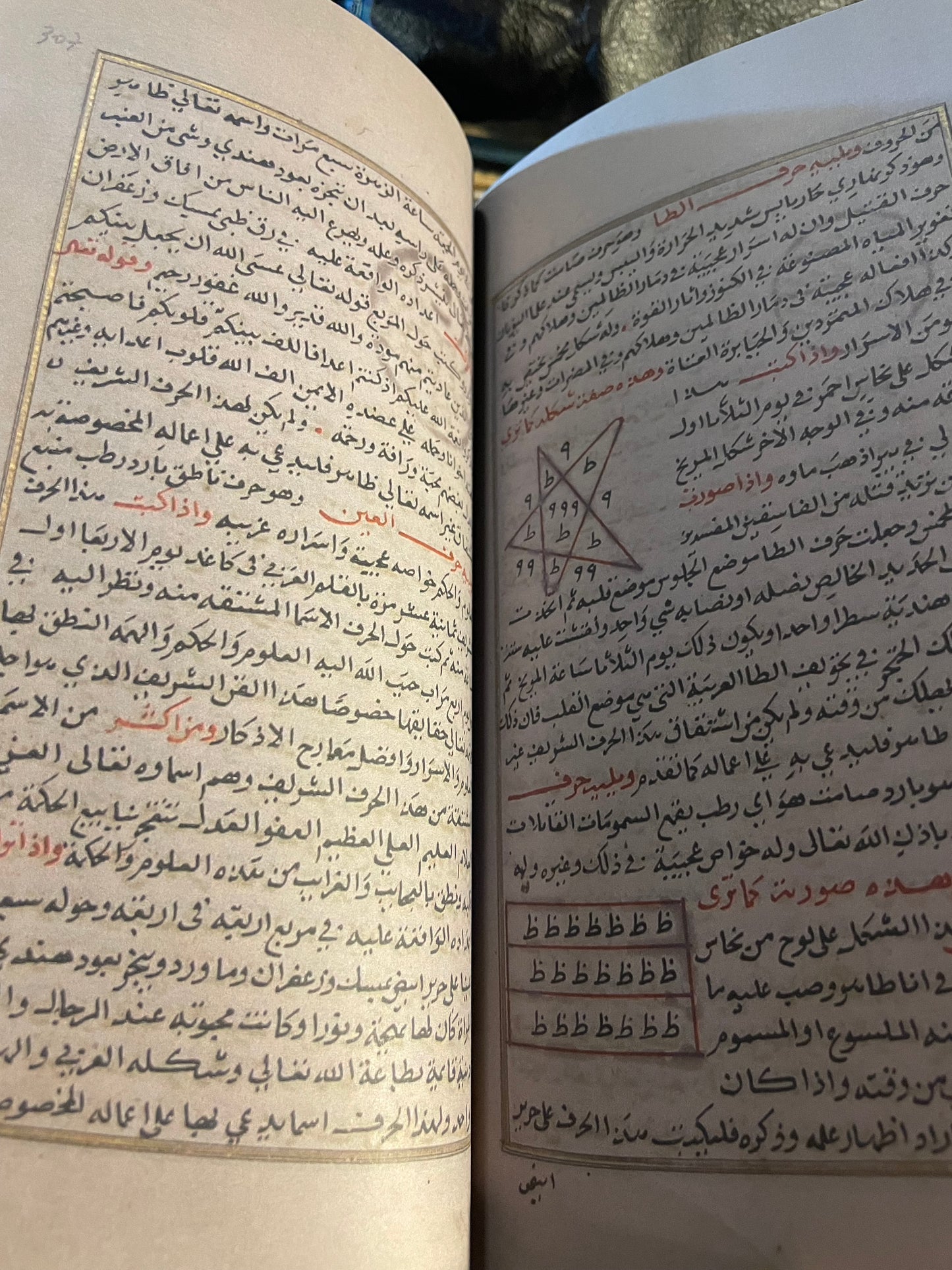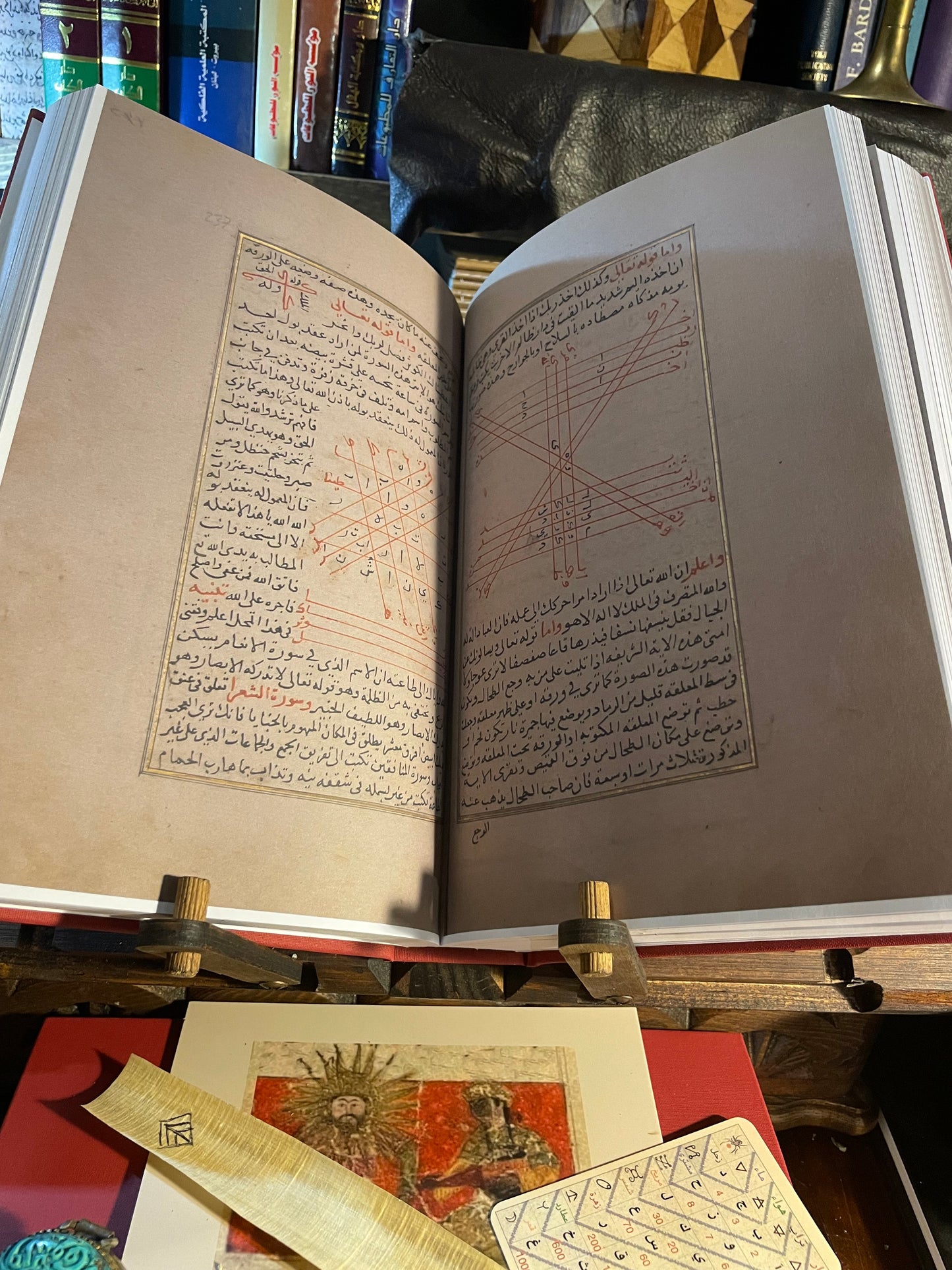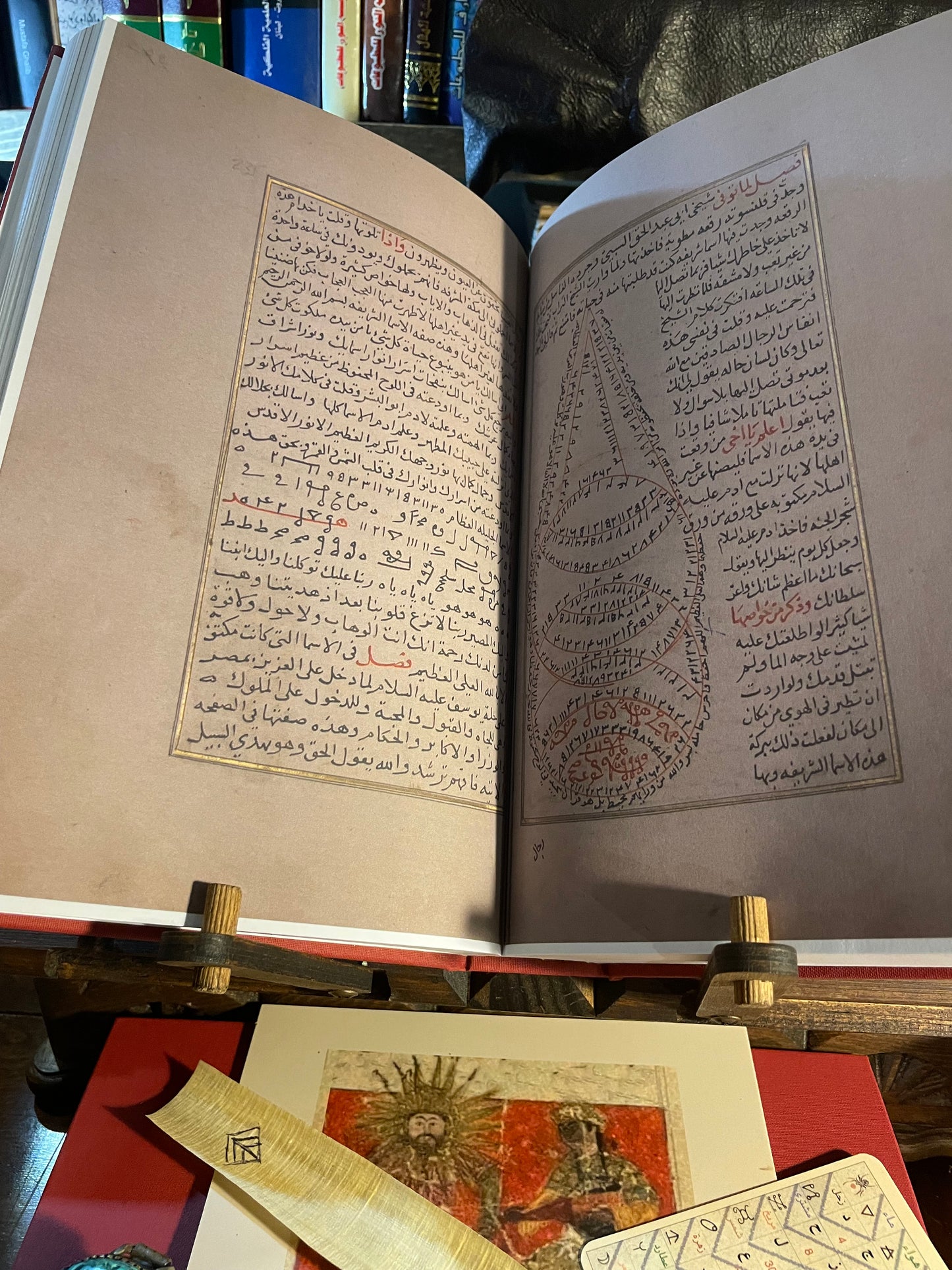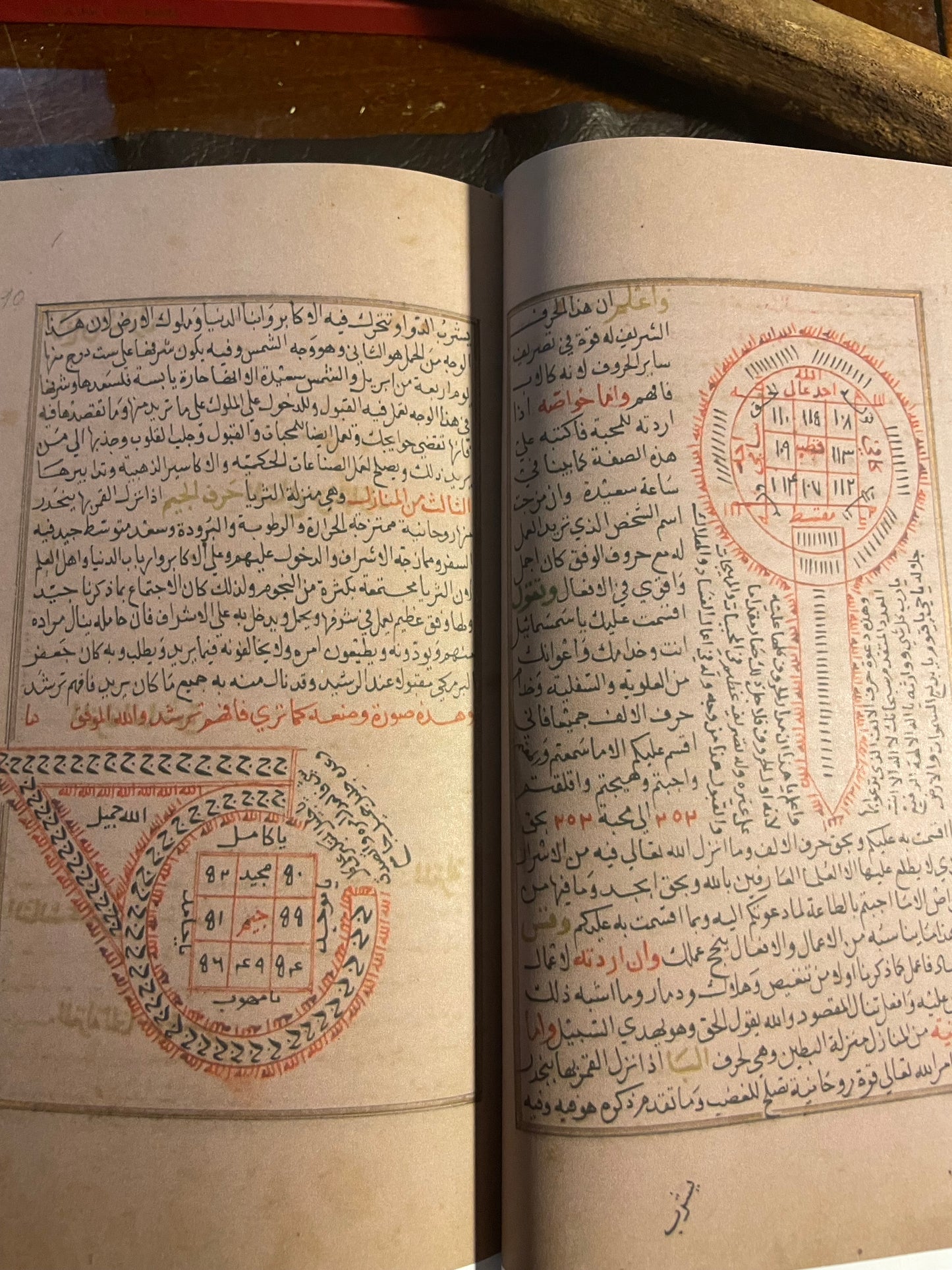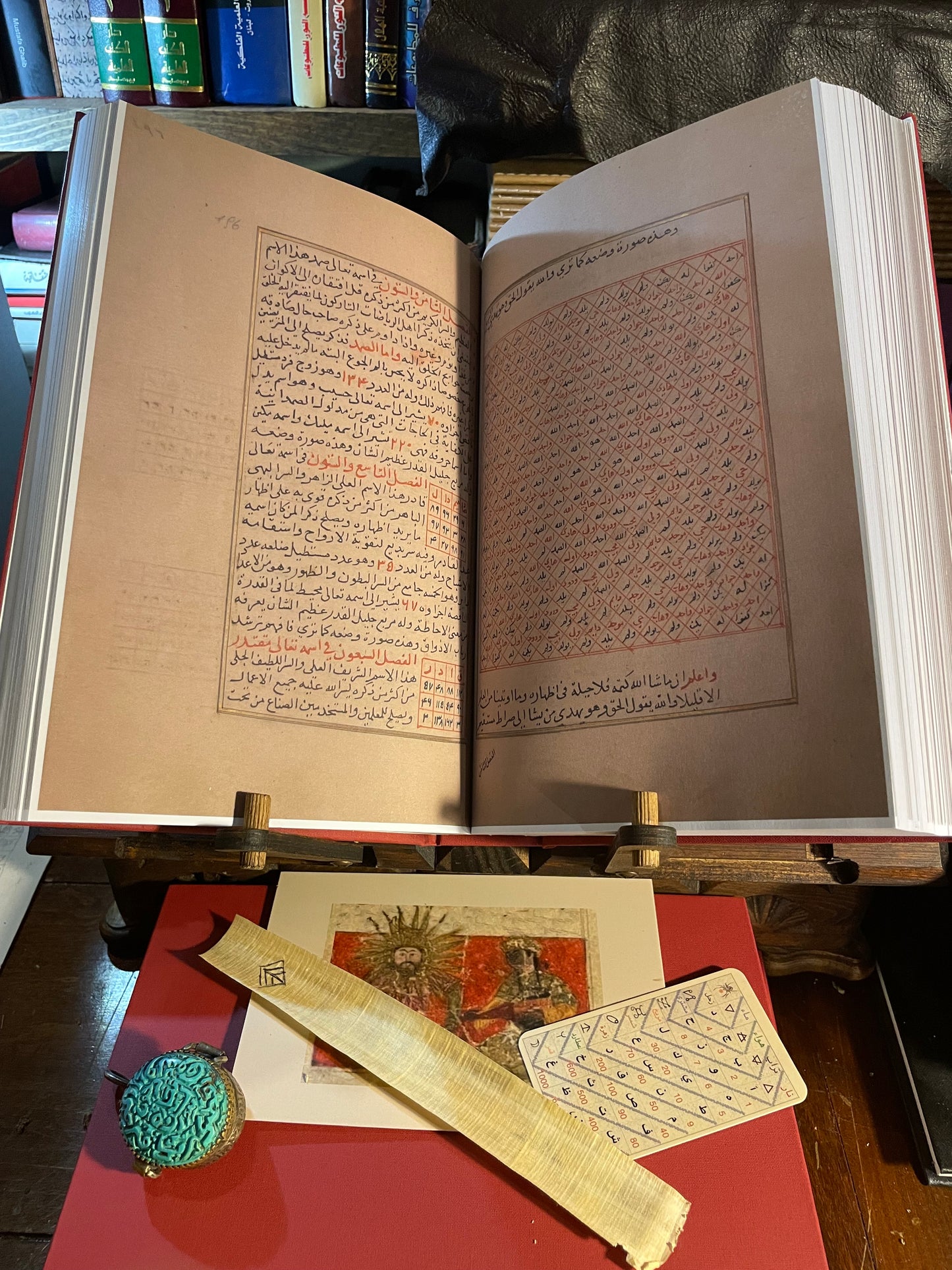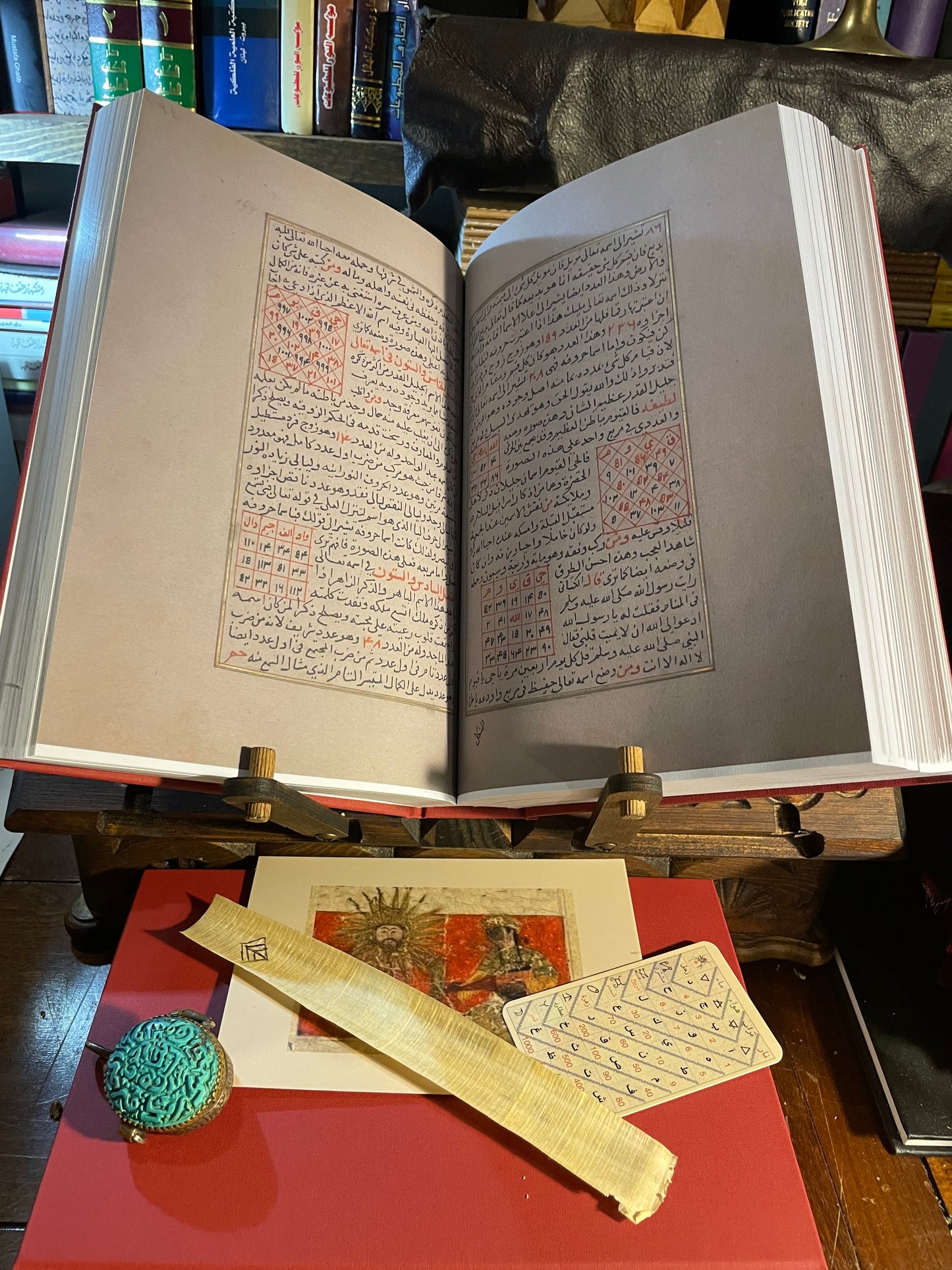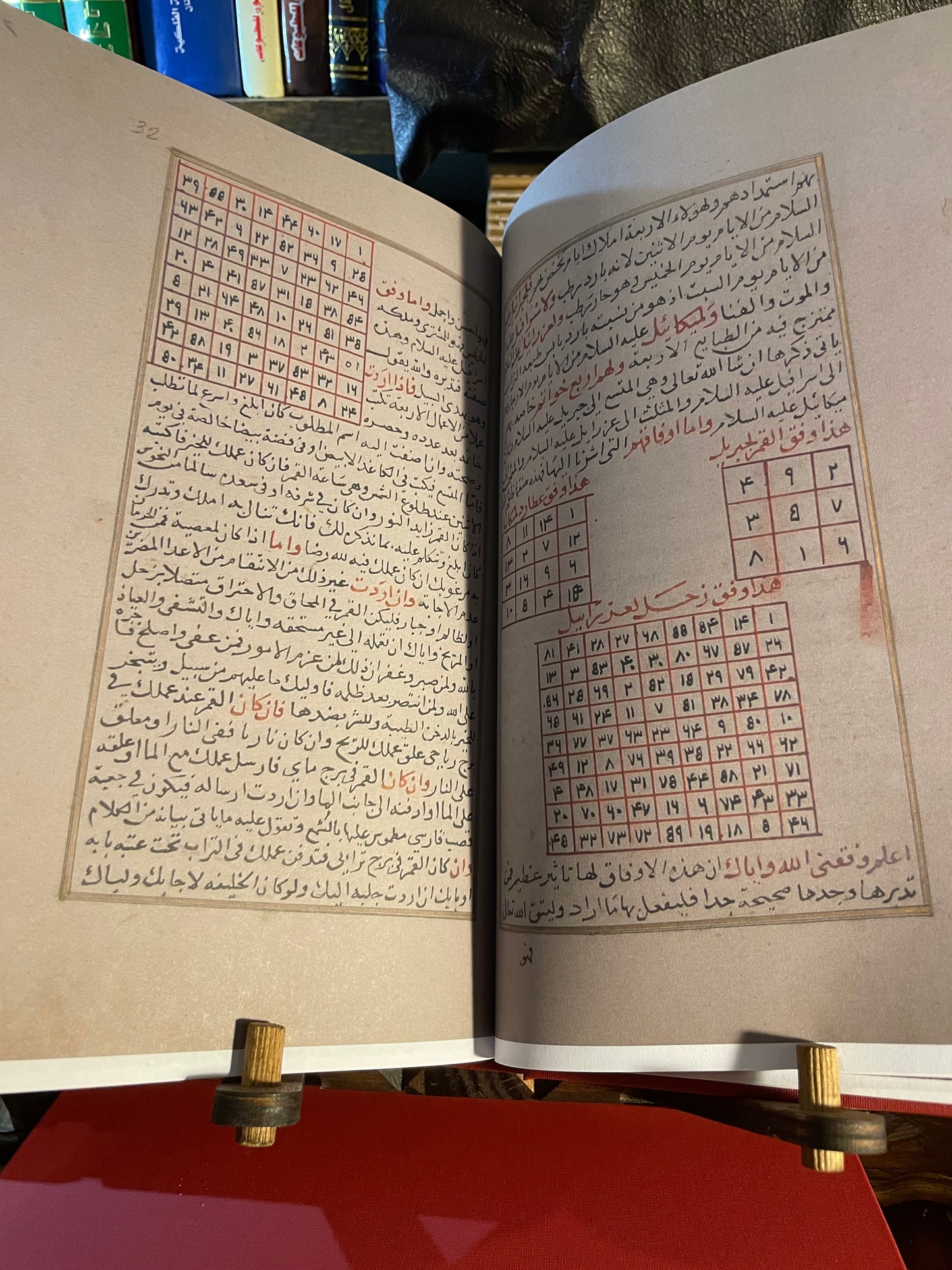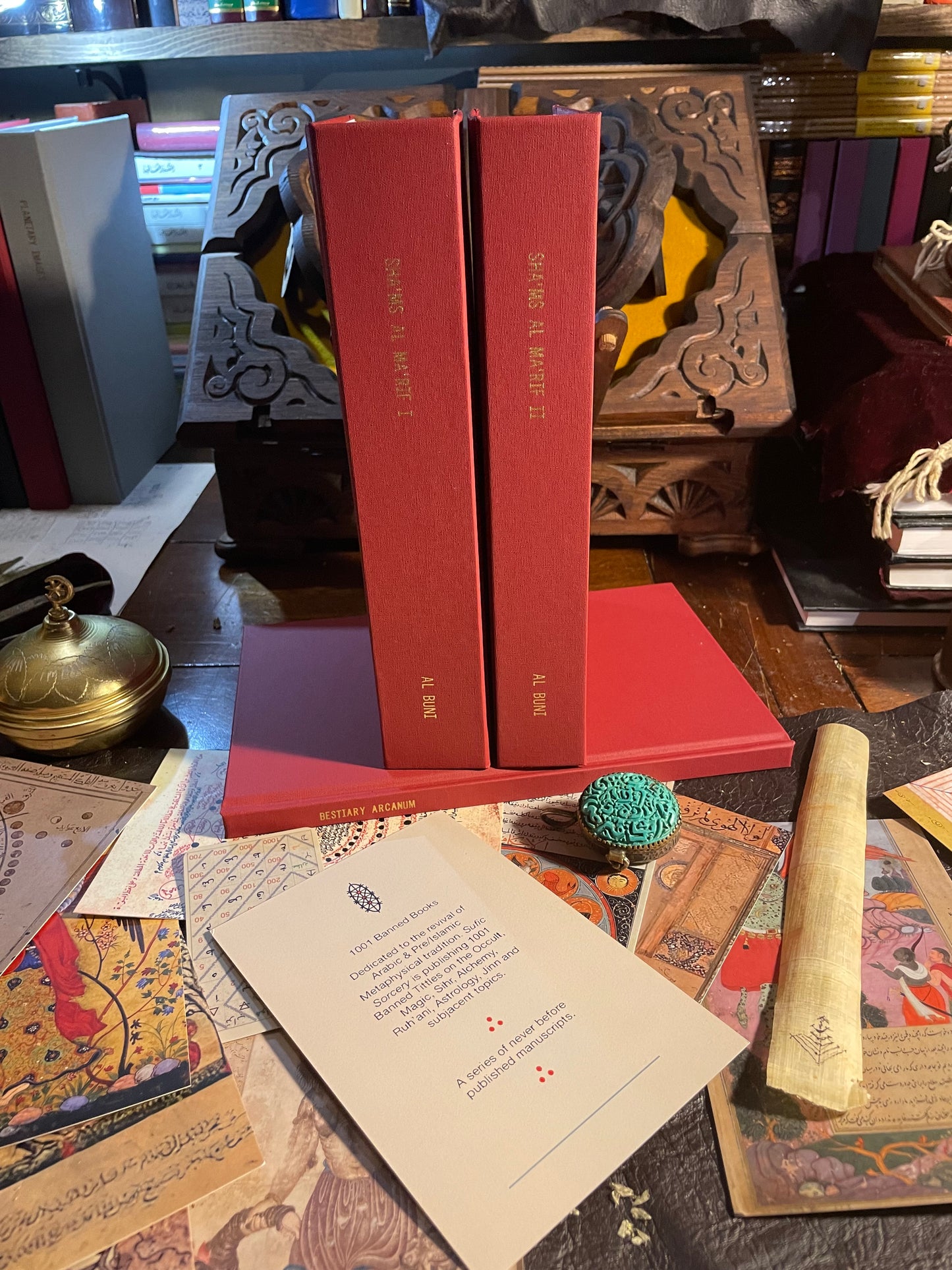 Image with text
Pair text with an image to focus on your chosen product, collection, or blog post. Add details on availability, style, or even provide a review.
Button label